Yr Ardd
Email
yrardd@gmail.com
Instagram
Facebook
Biography
Prosiect Gardd Gymunedol newydd a chyffrous yw Yr Ardd.
Ei bwrpas yw creu ardal gymunedol groesawgar a saff, lle gallwn ddod at ein gilydd i dyfu pob math o blanhigion ac i gymdeithasu yn yr awyr agored yn 'Pont-Tyweli', Llandysul.
Bydd gweithgareddau Yr Ardd yn cael eu harwain gan aelodau Yr Ardd,ac yn cwmpasu pob math o bethau fel trin a thrafod bwyd, lles ac iechyd, celf a sgiliau creadigol a mwy.
Beth am ymuno gyda ni ar yr antur yma??
Fel i ddod yn aelod – Cysylltwch gyda phwyllgor Yr Ardd drwy e-bost, Facebook neu Instagram.


Yr Ardd is a new exciting Community Garden project.
Its purpose is to create a welcoming and safe community area, where we can get together to grow a range of plants as well as socialise in the open air in 'Pont-Tyweli', Llandysul.
Activities in Yr Ardd will be run by its members and will cover a variety of things from growing & handling food, health and wellbeing, creative arts & crafts to name but a few.
Why not join us on this amazing adventure...
To become a member – Contact Yr Ardd's committee via e-mail, Facebook or Instagram.
Contact Details above.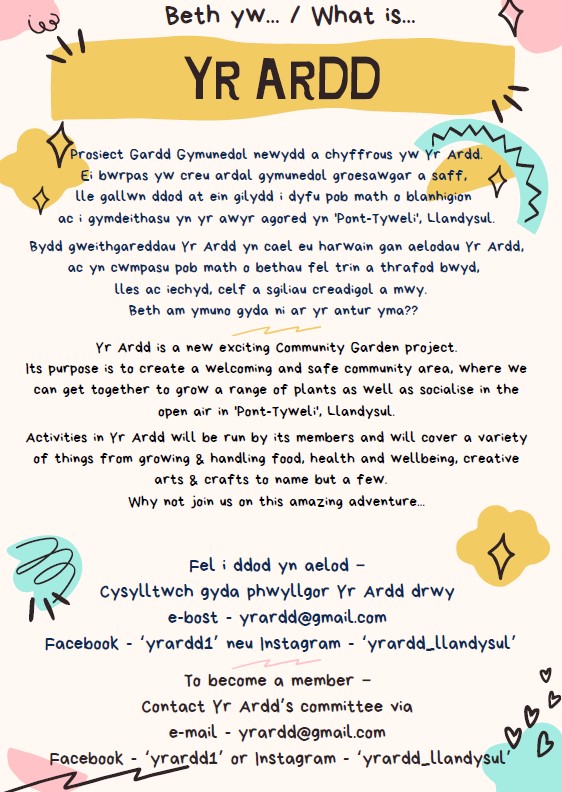 ---