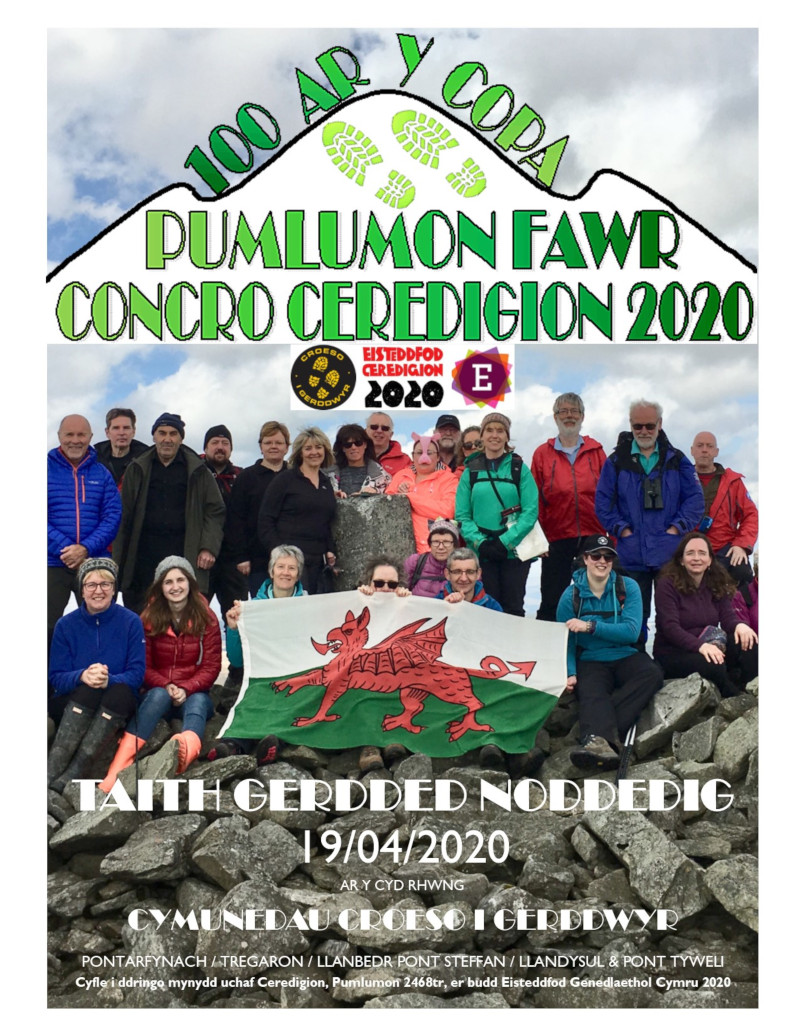 The National Eisteddfod of Wales is coming to Ceredigion in 2020.

Llandysul and Pont-Tyweli Walkers are Welcome will be joining with Walkers are Welcome groups from Pontarfynach, Tregaron and Lampeter to walk up Pumlumon Fawr to raise money for the National Eisteddfod Ceredigion 2020.

We have agreed to organise a sponsored walk to raise money for the local Eisteddfod funds.
The walk will be held on Sunday 19th of April 2020 with the aim of getting one hundred walkers to the summit of Ceredigion's highest peak, Pumlumon Fawr.

There will be 25 places available to each club.

The length of the walk is 6 miles and more details about the walk is available from
https://osmaps.ordnancesurvey.co.uk/route/1661281/2-The-Pig-Trail-Pumlumon-Fawr-2468ft
We intend visiting the Hafod Hotel in Devil's Bridge after the walk.

Each club will raise money for their local fund-raising account i.e. Llandysul and Pont-Tyweli will raise money for the Llandysul Appeal.
Two leaders from each club will assist in the leading of the walk. We will also be joined by members of the Aberdyfi Search and Rescue Team on the day.
Entry will be £10.00 per person and each walker has the target of raising a minimum of £20.00
There is a prize for the person who raise the most money.

If you would like to attend this walk, please download the Official Entry Form here and follow the instructions, or contact Dafydd (who is coordinating the walk) from Tregaron Walking Club on twmstreks@btinternet.com or via phone on 01974 298150.


Many thanks.
Lesley Parker
Llandysul & Pont-Tyweli Walkers are Welcome


---