Llandysul and Pont-Tyweli Walkers are Welcome
Forest Walk and Lunch
Sunday 26th January

***Booking Essential**
10am: Meet in Llandysul car park by bus stop for a ride in the mini bus.
10.25am: Meet at 1st cattle grid on the New Inn - Brechfa road for dog owners and people who don't want to stay for lunch.
10.30am: Walk from cattle grid to Keepers Lodge (just north of Brechfa on the same road).

It's an easy 3 mile walk mainly down hill (about 1hr30min). Ideal for those who haven't done much walking before. Path is wet in places where the water runs along the path but not very muddy. Option of walking all the way to Brechfa (5 miles from cattle grid, about 2hrs 30min, some uphill). Please wear walking boots or wellingtons and bring raincoat and waterproof leggings.

There will be shuttle cars from Keepers Lodge to take people back to the cattle grid for dog owners and those who don't want lunch or a short wait for the mini bus to be collected and a ride down to Forest Arms. The bus will then take everyone back to Llandysul after the meal. If you want to walk all the way to Brechfa and not stay for lunch, please arrange your own transport back.


1pm - Lunch in Forest Arms.
1 course meal - £9.50, 2 course meal - £14.50, 3 course meal - £19.50.
U12s main meal £6.50 + ice cream £3.50. It will be a roast dinner and exact menu will be out the week before and must be ordered by Tuesday 21st January. This walk must be booked in advanced (so we can get everyone back from Keepers Lodge or Brechfa).

Please phone Eva or Tom on 01559 363200 or email on cowcher@thelongbarn.co.uk. We will confirm receiving all email bookings so if you haven't received a confirmation please phone.

Cost: £2/person when using own transport. £3/person on the mini bus. FREE for children under 16.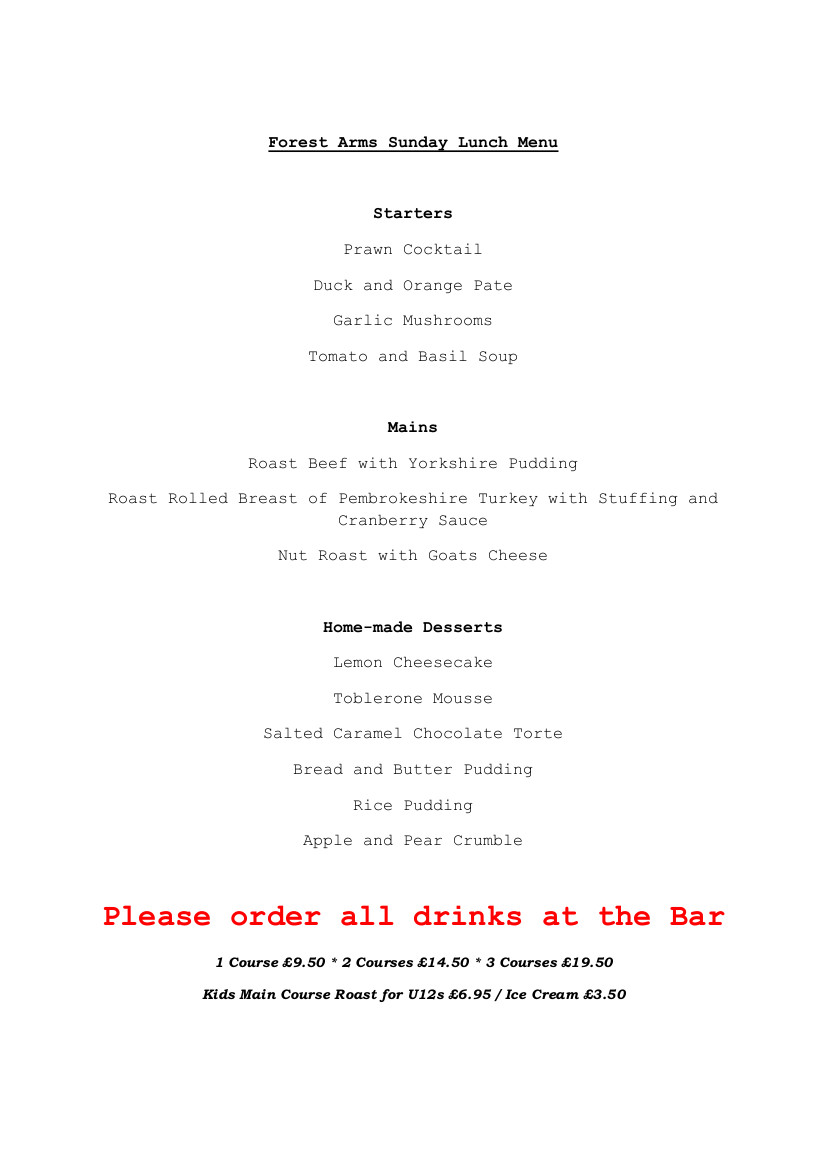 ---